Media Kit
Deborah Myers
Deborah Myers Wellness
Skype Name – Deborah Myers Wellness Media
Deborah@deborahmyerswellness.com
Deborah Myers Wellness Facebook Page
707-546-5692 (office landline)
707-546-0992 (additional landline)
707-484-5515 (cell number)
Latest Press Release regarding COVID-19
Check out videos of Deborah speaking in various venues
Information about Deborah Myers' books, video, and programs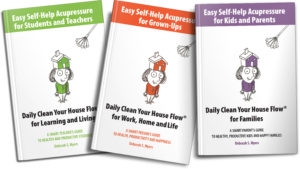 Deborah Myers has taught thousands of adults and kids self-help acupressure. The Daily Clean Your House Flow is an easy-to-use flow that is effective for reducing stress, providing pain relief, and strengthening the immune system.
Deborah created an animated video of the Daily Flow to address a need for youth of all ages to enjoy more stress-free lives. You can view this video and others here.
Use the video in the classroom and at home to experience life with more ease, creativity, productivity, clarity, and focus! It is easy to follow and fun to watch time and time again. And the benefits are long-last lasting.
Her series of Easy Self-Help Acupressure books are great companion guides for the video.