The Beauty of Spring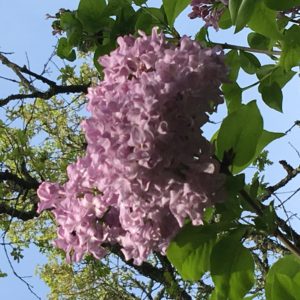 Spring is all about transformation. We see it all around us – the plants growing, the land changing all around us.
I love the beauty of spring colors, the emerald green of the grass and trees, the vibrant colors of the flowers and the glorious blue of the sky. I am thoroughly enjoying the scents that are permeating the air. It's amazing to be able to smell my lilacs, citrus and jasmine all at the same time.
Our bodies are also in the mode of change. Are you feeling the shift as a boost of vitality and a greater sense of awareness? Or are you experiencing tiredness and loss of energy? If the latter is the case, you may also be experiencing allergies. It's not unusual that they go hand in hand. But it doesn't have to be that way!
Discover how easy it is to walk around in a body that has balance and harmony and allows you to experience all the beauty of spring. Let go of blocked energy that is creating allergies, tiredness and loss of energy by doing your energy work! It's super easy to do the Daily Clean Your House Flow. See the nine-step self-help acupressure flow on the website and discover what difference you can make in how you feel and what you can do.
Flower Miracle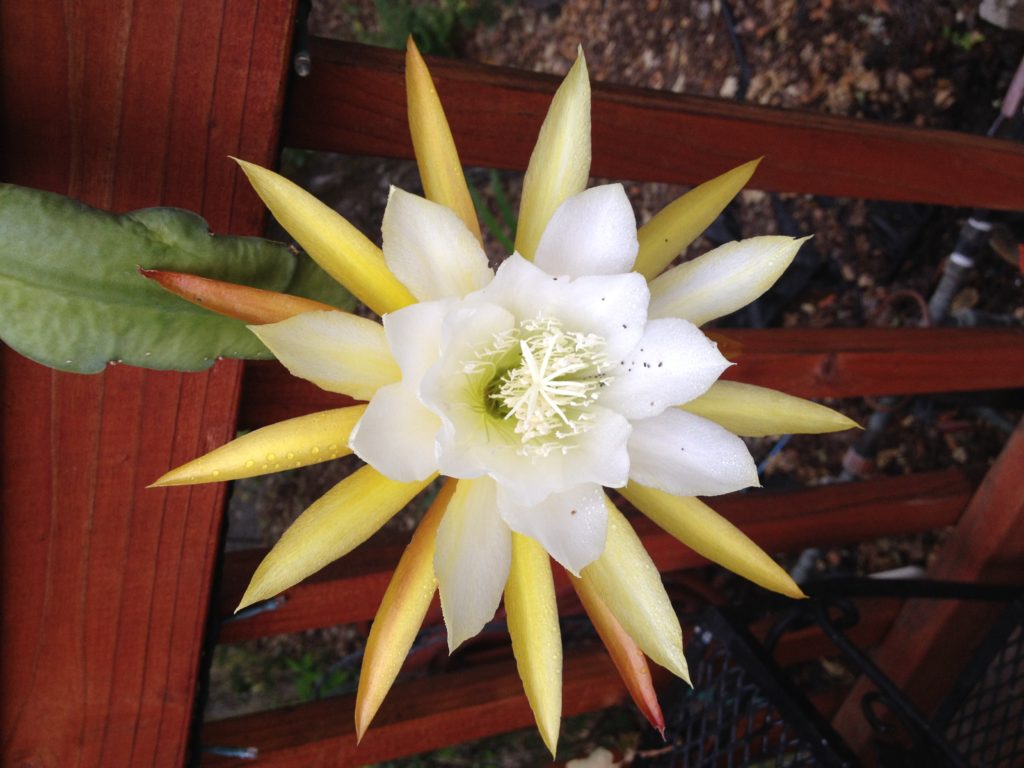 Imagine walking out to the deck one morning and seeing this flower on a cactus!
We've had that plant for at least five years. It had never bloomed before and I didn't even realize it could or would. We have had four blooms over the last two weeks, each coming one at a time. The flower pods would show up, opening into blossom, and each one would last three to five days. What a glorious experience! It doesn't look like there will be any more blossoms, but I'm willing to be surprised.
Will this ever happen again? Was it something that occurs as a fluke, was it a miracle, or does that cactus bloom in five to seven year increments? Right now it doesn't matter what the answer is, but it would be awesome if it happens again. And it would be great if I didn't have to wait for another five plus years to see this bit of magic take place.
Do you have occurrences in your life that you weren't expecting and when they landed in front of you they made a huge difference in possibilities, in planning and in your hoped for outcome?
Watching these amazingly beautiful flowers magically blossom allowed me to reflect that there are similarities to allowing magic and miracles to happen in life.
I decided that I was going to address projects and dreams like watching this cactus bloom — a state of being in wonderment and of being willing to be in that place of anticipation of what can occur. I've consistently been in awe of what life brings, but sometimes I need to be reminded to allow — to get out of my own way and just be ready for what can show up.
And that is what has transpired in the last week! I'm so close to having my whiteboard animation video of the Daily Clean Your House Flow ready to show you!  I have had the most amazing team helping me create the project. And with the extra juice and support that has just showed up, I'm experiencing another surge of excitement and anticipation. Life and surprise flowers are full of magic. Enjoy!
Water and Energy – It's all the same!

The water is a-flowing! Well, we were wishing for rain – and we got it!
I knew it was going to be a big storm and I prepped for it. One of the big chores was to fill sandbags and place them in strategic locations with the hope that my garden paths didn't get totally rutted out as the water came down the hillside.
Now you know that I consistently talk about balancing the energy in our bodies so the pathways are open and flowing. When we accomplish this, it's all about correcting the movement of the energy so the rivers are flowing easily. When we do our daily energy balancing, we are literally re-patterning and reprograming our energy system so our bodies are ready for what we're going to ask them to do and better prepared for whatever might come at them.
In this particular instance, my goal was to do the very same thing – use the sandbags to help the flow of water go where I wanted it to go so the garden paths wouldn't be drastically impacted. Well, best laid plans – it sort of worked! The rain came down so hard at times during the night that I fully expected the garden to be full of new rivers gouged out by the downpour. My paths were definitely not perfect this morning, but they could have been a whole lot worse. My work to correct the impact is going to be a lot less than it might have been. I'll need a load of gravel but it should be easy to take care of the project.
Moral of the story – be prepared! Take care of yourself, whether it be your body or your property, and you'll have fewer big projects that get created. The rest of the lesson – do your energy balancing before you ask your body to do any activity. Because I did mine before filling the sandbags and moving them around, my body didn't go into reaction. And because I did my Daily Clean Your House Flow this morning, I was okay to be out there shoveling gravel and getting the pools of water to let go and flow.
My next suggestion is to stay dry and warm! Wishing you a healthy and happy holiday season!!